LA NUEVA VALIDACIÓN DE UNA EMPRESA A LA VANGUARDIA DE LA CIENCIA DEL DEPORTE DESDE 2006 SE OTORGARÁ A LOS ESTUDIANTES DE NUESTROS DIFERENTES MÁSTERES.
Madrid, 2 de febrero de 2023.- Catapult y Sports Data Campus vuelven a unir sus esfuerzos para darle el máximo de los beneficios a los alumnos de nuestra entidad. Desde este año los estudiantes de los diferentes Másteres de Sports Data Campus: Máster en Big Data Deportivo, Máster en Big Data aplicado al Scouting en el fútbol, realizado en colaboración con el Sevilla FC, Máster en Inteligencia Artificial aplicada al Deporte, Máster en Big Data aplicado a la Preparación Física en Fútbol, y MSC Data Analytics in Football entre otros, y avalados y certificados por la más prestigiosa universidad del deporte, la UCAM, contarán también con la certificación Catapult. 
Catapult es la empresa líder en el mercado de dispositivos wearable y software para el análisis del rendimiento físico para equipos de élite en deportes como fútbol, baloncesto, rugby, fútbol sala a nivel mundial y fútbol americano en los Estados Unidos. Los productos Catapult, que operan en el punto donde ciencia y análisis deportivos se unen, están diseñados para optimizar el rendimiento, reducir el riesgo de lesiones y cuantificar la vuelta al juego.
Más de 3000 equipos de élite de competiciones como la NFL, NBA, NCAA y MLS en los Estados Unidos, las principales ligas de fútbol en Europa como Liga Portugal, LaLiga, Premier League, Bundesliga, Ligue 1 y Serie A, y equipos de la ACB-Liga Endesa de baloncesto de España, son los principales usuarios de la tecnología Catapult. Además, Catapult a través de las soluciones de SBG Sports Software, es proveedor de las soluciones de análitica avanzada de varios equipos de la Formula 1 y la FIA, sincronizando vídeo, audio y datos para la visualización y análisis en directo, predicción, planificación y evaluación posterior al evento.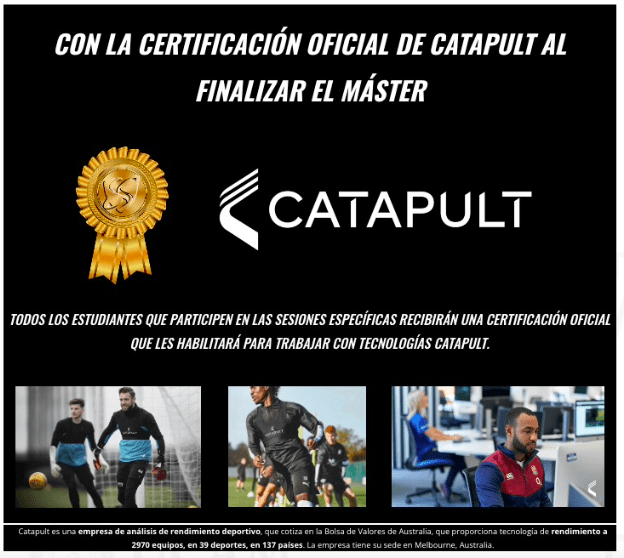 A través de este nuevo acuerdo, Catapult, una empresa de primer nivel que busca potenciar a atletas, equipos y entrenadores en todo el mundo, además de formar entrenadores, analistas y preparadores físicos, aportará la nueva certificación que recibirán quiénes se formen con nuestros Másteres en Sports Data Campus, potenciando de esta manera aún más su capacitación profesional en un mercado cada vez más competitivo.
Catapult brindará dos sesiones específicas para nuestros alumnos. Los temas de los workshops serán dos:
Performance and Health
Introduction to wearable and tracking technology
From data to insights. Practical uses of wearable technology
Joshua Lee. Customer Success Specialist at Catapult.

Tactics and Coaching
Introduction to video analysis
Practical workflows and the potential for data integration
Andre Pawlowski. Customer Success Specialist – Tactics and Coaching
¡Encantados de seguir construyendo e innovando en la industria junto a Catapult!
MÁS Información SOBRE PROGRAMAS e Inscripciones:
✅ Máster en Big Data Deportivo:
https://sportsdatacampus.com/master-big-data-deportivo
✅ Máster en Big Data aplicado al Scouting en Fútbol:
https://sportsdatacampus.com/master_en_big_data_aplicado_al_scouting_en_futbol
✅ MSC Analytics in Football:
https://sportsdatacampus.com/msc-big-data-analytics-football/
✅ Máster en Big Data aplicado a la Preparación Física en Fútbol:
https://sportsdatacampus.com/master-en-big-data-aplicado-a-la-preparacion-fisica-en-futbol
✅ Máster en Inteligencia Artificial aplicada al Deporte:
https://sportsdatacampus.com/master-en-inteligencia-artificial-aplicada-al-deporte
Miguel Ángel del Barrio Rodríguez
Director de Programas
informacion@sportsdatacampus.com
+34 626 60 50 73
---