> Spiideo es el proveedor líder de soluciones automatizadas basadas en la nube para el análisis de vídeo y el streaming en el sector deportivo.
Madrid, 29 de septiembre de 2022.- Sports Data Campus, cada día más, es una apuesta clara de futuro. A punto de arrancar una nueva edición de nuestros estudios, seguimos cerrando colaboraciones. en este caso, con Spiideo, que aportará su experiencia profesional a los Programas: Máster en Big Data Deportivo, Máster en Big Data aplicado al Scouting en el fútbol, realizado en colaboración con el Sevilla FC y Máster en Big Data aplicado a la Preparación Física en Fútbol, entre otros.
Spiideo es el proveedor líder de soluciones automatizadas basadas en la nube para el análisis de vídeo y el streaming en el sector deportivo. Se fundó en Malmö, en el sur de Suecia, en 2012. Desde entonces, la empresa se ha expandido y ahora tiene presencia internacional en Europa, Norteamérica y Asia. Con la creciente demanda de datos en el deporte, Spiideo se centra en hacer que el vídeo y los datos estén disponibles a través de la automatización. Con una mayor integración del vídeo con los datos de la IA, estos sistemas son capaces de supervisar y alertar a los entrenadores de las ventajas tácticas y de rendimiento.
Los sistemas de cámaras fijas y móviles de Spiideo para deportes de interior y exterior se integran directamente a través de la nube con Spiideo Perform (análisis) y Spiideo Play (emisión automatizada). Con funciones como AutoFollow, AutoData™ y la tecnología de panorama virtual, los usuarios de Spiideo disponen de un conjunto completo de herramientas para llevar su vídeo al máximo nivel. En concreto, la capacidad de ver todo el campo de juego con un control total sobre la cámara virtual, en combinación con AutoData™, Spiideo es la única plataforma de análisis de vídeo del mundo con etiquetado automatizado en directo y seguimiento de jugadores. AutoData™ genera automáticamente los datos en vivo de los usuarios de Spiideo Perform para extraer sin esfuerzo clips, datos, estadísticas, eventos y conocimientos para impulsar el análisis de la oposición, la planificación táctica y el desarrollo de los jugadores. En otras palabras, la diferencia entre ganar y perder.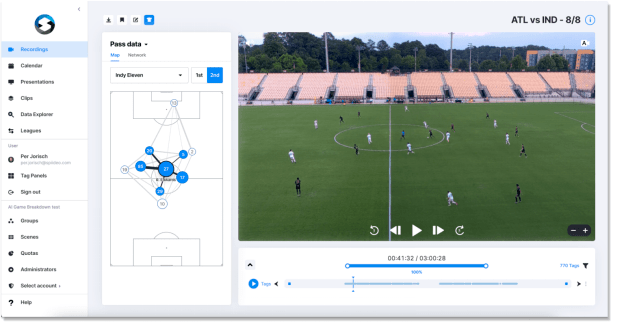 Con una cámara Spiideo instalada, ahora puede capturar automáticamente los datos de los eventos del juego y los datos de seguimiento de los jugadores individuales en directo y de forma continua durante los partidos de fútbol. A medida que se desarrolla el juego, la tecnología de seguimiento de jugadores captura una serie de datos, incluyendo eventos del juego como goles, disparos, córners o tarjetas; estadísticas individuales de los jugadores como la distancia recorrida, carreras de alta intensidad y velocidades de carrera; así como datos posicionales precisos.
Al añadir AutoData™ a Spiideo Perform, los equipos y las ligas de todo el mundo disponen ahora del más alto nivel de capacidad de análisis de vídeo, ya puede ofrecer datos de los partidos a una escala nunca antes alcanzada, sin limitaciones causadas por la falta de analistas disponibles. Con el seguimiento de los jugadores y el desglose de los partidos, los clientes de Spiideo pueden solicitar datos de cualquier partido, jugado en cualquier momento, en cualquier parte del mundo..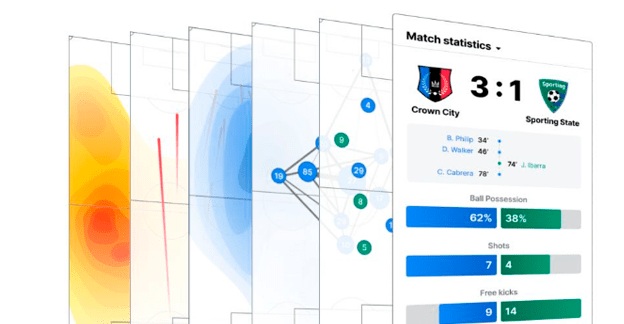 Más de 2000 organizaciones utilizan actualmente spiideo, incluyendo equipos de la Premier League, NHL, Serie A, MLS, NBA, Ligue 1, NCAA y Bundesliga. La solución de Spiideo también es utilizada por clientes como la USL, la NWSL, la SEC, la Allsvenskan de Suecia, la Pepsi Max League de Islandia, la Metal Ligaen de Dinamarca y varios titulares de derechos tanto en Europa como en Norteamérica.
La asociación entre Sports Data Campus y Spiideo, permite a los estudiantes el acceso y la comprensión a la tecnología de vanguardia para el análisis del rendimiento, utilizando la combinación de vídeo y datos. Hoy en día, la solución automatizada de vídeo y análisis de Spiideo cuenta con la confianza de miles de clubes y organizaciones de todo el mundo en todos los niveles del deporte. A través de la colaboración con Sports Data Campus, estamos encantados de dar a la próxima generación de científicos de datos deportivos acceso a una innovadora plataforma impulsada por IA que dispone de herramientas para ayudarles a sobresalir en su educación», dice Federico Sbisà, Director de Ventas de Spiideo.
Estamos seguros de que esta colaboración va a ser muy beneficiosa para nuestros alumnos.
¡Bienvenido, Spiideo!
MÁS Información SOBRE PROGRAMAS e Inscripciones:
✅ Máster en Big Data Deportivo:
https://sportsdatacampus.com/master-big-data-deportivo
✅ Máster en Big Data aplicado al Scouting en Fútbol:
https://sportsdatacampus.com/master_en_big_data_aplicado_al_scouting_en_futbol
✅ Máster en Big Data aplicado a la Preparación Física en Fútbol:
https://sportsdatacampus.com/master-en-big-data-aplicado-a-la-preparacion-fisica-en-futbol
✅ Máster en Inteligencia Artificial aplicada al Deporte:
https://sportsdatacampus.com/master-en-inteligencia-artificial-aplicada-al-deporte
Miguel Ángel del Barrio Rodríguez
Director de Programas
informacion@sportsdatacampus.com
+34 626 60 50 73
---
NEW COLLABORATION AGREEMENT BETWEEN SPORTS DATA CAMPUS AND SPIIDEO
> Spiideo is the leading provider of automated cloud-based solutions for video analysis and streaming in the sports sector.
Madrid, 28th September 2022.- Sports Data Campus, every day more, is a clear commitment to the future. About to start a new edition of our studies, we continue closing collaborations. in this case, with Spiideo, which will contribute its professional experience to the Programs.
Spiideo is the leading provider of automated cloud-based solutions for video analysis and streaming in the sports sector. It was founded in Malmö, in the south of Sweden, in 2012. Since then, the company has expanded and now has an international presence across Europe, North America, and Asia.. With the increasing demand for data in sports, Spiideo is focused on making video and data available through automation. With greater integration of video with AI data, these systems are able to monitor and alert coaches of tactical and performance advantages.
Spiideo's fixed and mobile camera systems for both indoor and outdoor sports integrate directly through the cloud with Spiideo Perform (analysis) and Spiideo Play (automated broadcasting). With features such as AutoFollow, AutoData™, and virtual panorama technology, Spiideo users have a full suite of tools to take their video to the highest level. Specifically, the ability to see the entire playing field with full control over the virtual camera, in combination with AutoData™, Spiideo is the world's only video analysis platform with automated live tagging and player tracking. AutoData™ automatically generates live data from live empowering Spiideo Perform users to effortlessly extract clips, data, stats, events, and insights to drive opposition analysis, tactical planning and player development. In other words, the difference between winning and losing.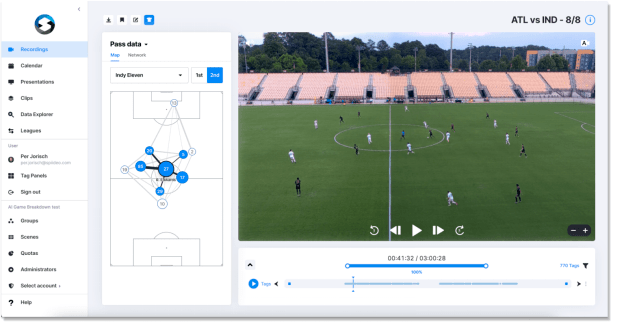 With a Spiideo camera installed, you can now automatically capture game event data and individual player tracking data live and continuously throughout soccer matches. As the game unfolds, the player tracking technology captures a range of data, including game events such as goals, shots, corners, or cards; individual player statistics such as distance covered, high-intensity runs, and run speeds; as well as precise positional data.
By adding AutoData™ to Spiideo Perform, the highest level of video analysis capability is now available to teams and leagues around the world, because it can offer match data at a scale that has never been achieved before, with no limitations caused by a lack of available analysts. With player tracking & game breakdown, Spiideo customers can request data for any game, played at any time, anywhere in the world.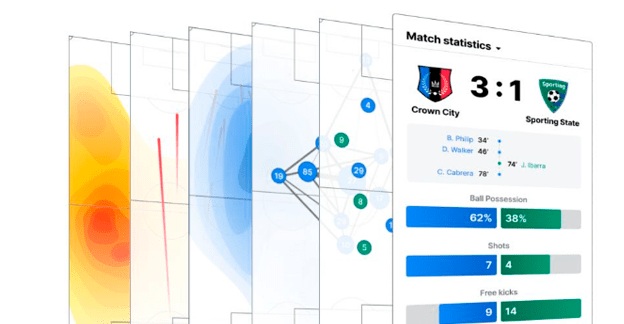 More than 2,000 organizations are currently using spiideo, including teams in the Premier League, NHL, Serie A, MLS, NBA, Ligue 1, NCAA, and Bundesliga. Spiideo's solution is also used by customers such as the USL, NWSL, SEC, Sweden's Allsvenskan, Iceland's Pepsi Max League, Denmark's Metal Ligaen, and various rights holders throughout both Europe and North America.
"The partnership between Sports Data Campus and Spiideo, enables students with access and insights to cutting-edge technology for performance analysis, using video and data combined. Today, Spiideo's automated video and analysis solution is trusted by thousands of clubs and organizations across the world on every level of sports. Through the collaboration with Sports Data Campus, we are thrilled to give the next generation of sports data scientists access to an innovative AI-powered platform with tools to help them excel in their education", says Federico Sbisà, Sales Director at Spiideo.

We are sure that this collaboration will be very beneficial for our students.
¡Welcome, Spiideo!